Projects: Learn More
"PRESERVING THE PAST FOR THE FUTURE" is the slogan and quest of Preservation Warrenton. Since its incorporation in 1998, PW has undertaken the following projects to further its mission: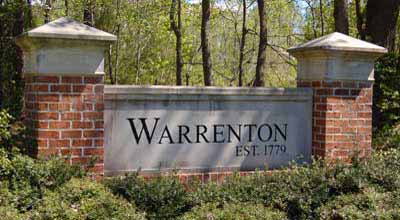 The erection of three Town of Warrenton signs, created by Cast Stone Systems, Inc..


The erection of 63 markers for noteworthy houses and buildings in Warrenton and Warren County.


Erection of 4 kiosks (one at The Jacob Holt House, one in Inez, one in the Court House, and one at the Memorial Garden on South Main Street.)


Successful efforts to save and landscape historic structures (Peter Davis Tavern, 1783, and The Hendrick House, circa 1870, both on Front Street) Note: Attorney Julius Banzet III purchased the Peter Davis Tavern in 2007 from the County of Warren. Restoration (by Creek Construction) began immediately and was completed in 2008. It is adjacent to and currently used as an annex to the law firm of Banzet,Thompson,and Styers LLC.


Provided benches and American flags to downtown merchants.


Provides the funds each year to operate a Visitor's Center at the Jacob Holt House from Memorial Day weekend through Labor Day.


Sponsored two presentations by Dr. Elliot Engel. ("The Mystery of "Robert E. Lee" and " A Yuletide Dickens Event")


Showcased the art of Warren County native and artist, Dianne T. Rodwell.


Heritage Quilters Shows, showcased and sponsored since 2001.


Showcased the pottery of Senora Lynch, of Warren County.


Preservation Warrenton, Inc. is a member of The Chamber of Commerce of Warren County and The Lake Gaston Chamber of Commerce


Preservation Warrenton has given monetary donations to the Norlina Museum, to the Ridgeway Historical Society for its future museum, and to the Plummer Hook and Ladder's future museum.


Eight different Homes Tours have been presented by Preservation Warrenton in 1999, 2001, 2003, 2006, 2008, 2010, 2012 and 2014. These tours have drawn hundreds of visitors to the town and county. Proceeds from the tours have enabled PW to continue and begin projects to further its mission.


In 2007, in order to mark the 10th anniversary of PW, "Partners in Preservation" was established in order to receive more support from the community. Read more about our Partners Events.


A major project begun in 2007 and completed in 2008, is the J.S. and Mary L. Green Wortham Memorial Garden, situated on the corner of South Main Street and Franklin Street. The garden has added greatly to the beauty of the town. Through the generosity of Charles S. Grady and many others, Preservation Warrenton very proudly presents the garden for all citizens and visitors to enjoy.
Preservation Warrenton is very proud of all of its accomplishments as the Directors work to "Preserve the Past for the Future."